Riol is a lovely little town in Germany. We had a nice house to stay in – the kids had their own bedroom each and there was a good size kitchen and lounge. I particularly liked the bathroom, it was recently renovated and I guess I just like orange!
We went for a walk the first night we were there and discovered a water-skiing lake where you can practice your water skiing with the help of mechanical towrope. There was also a luge but we didn't find that till the day we were leaving.
From Riol we visited Trier which is the oldest town in Germany, dating back to Roman times. The Porta Nigra is a Roman gate that meets you as you enter the old part of town.
We spent some time at home talking about how it was built which made it more interesting for the kids. The massive stones were held together by iron braces at the top. Most of the braces were later taken away and reused in other buildings. You can still see the hollows that were made in the stones to pour the hot iron 'glue' into. Made us wonder how stable the whole structure could be!
We enjoyed walking around the old town, especially looking at all the food shops!
The Dom (Cathedral) was extrememly impressive! There is a relic – the robe of Jesus – which is hardly ever on display but you can peer through a glass wall to the display cabinet!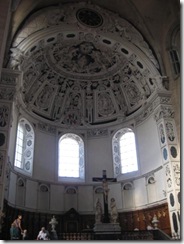 We also visited the Treasury at the Dom and saw some amazing 'treasures'
Constantines Throne Room was a huge Roman building -it would have been amazing to see when it was all decorated with mosaics back in his time. There was some sad history to be read about how the building had been bombed during the war and the Protestants (who owned the building by then) considered it a punishment for their not making more of a stand against Hitler. It is still a Protestant church to this day.
Walking around we also saw some ruins of a Roman Bathhouse as well as a beautiful garden where we had our afternoon tea.
Another day we visited Luxembourg. We stopped at the American War Cemetary and Memorial on the way, which was a very sombre experience.
The traffic into Luxembourg was crazy and the carpark looked really dilapidated, but the rest of the city was modern and we enjoyed walking around.
We visited a museum about the history of Luxembourg and then we went to one about art through the years. The buildings were very modern and we loved the lifts!! Not so sure about the history and the art..
We ended our day in Luxembourg by walking to the Bock viewpoint (the Bock is the rocky cliffs to the North East of the city). The view was stunning and just like the models in the museum!
We left Riol the day after visiting Luxembourg and headed for Strasbourg.
(Week 31A: Sunday, 16 September 2012 – Wednesday, 19 September 2012)